President Obama is a fanatical believer in man-made Climate Change and uses it to implement his statist views that governments should control all aspects of our lives. Frankly, we believe that we're on our own when the SHTF and that hurricanes will keep on coming, regardless of how many hybrids we drive, cows fart, or volcanos erupt.
FEMA's performance after Hurricanes Katrina and Sandy demonstrated that regular ordinary people, with a lot of back-up from volunteer organizations and the well-organized private sector, got through despite the government, not because of it.
Today, the President endured his annual Hurricane Preparedness Briefing from FEMA, which claimed that the world is gradually flooding, overheating, and drying out – all at the same time.
Read all about it here:
The People's Briefing: Hurricane Preparedness
The agency has come up with a smartphone app called Weather the Storm. Let's see how useful it is when the battery has run out.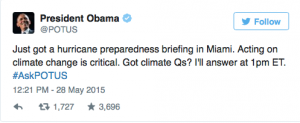 Following the briefing, the White House answered a Twitter Q & A on Climate Change (click to read) which is a glimpse into the authoritarian approach the Administration prefers when talking about Climate Change and how it likes to deal with people at home and abroad who disagree with their pro-Big Business, pro-Big Government take on it. The questions also suggest a degree of scripting.
For people who feel that the Doomsday scenario they've been promised on Global Warming/Climate Change/Climate Chaos is suspect, we suggest you visit this site to look at some opinions on the other side of the argument.
For people who feel they should prepare for disasters themselves rather than depend upon the government, go here.